A Declaration
The history of Anguilla and its people embraces both a fierce spirit of pride, independence and self reliance and a deep concern for each other's welfare and well-being.
Free people giving freely of themselves to help their fellow citizens and doing so in a spirit of joy. Nothing better captures this remarkable dynamic than JOLLIFICATION, the unique term by which Anguillians describe the celebratory act of neighbors coming together to help neighbors.
The formation of The Anguilla Community Foundation signals and confirms that the spirit of jollification has found yet another way to express itself.
The community foundation will enable Anguillians to preserve and enhance the quality of life on our island, to strengthen the viability of non-governmental organizations as well as to foster the creation of new ones and to provide donors with the opportunity and means to fully express their charitable spirit.
May, 1999
Welcome to Anguilla Community Foundation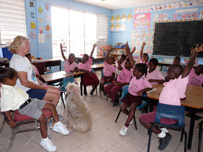 The Anguilla Community Foundation is the community foundation serving the island of Anguilla, BWI. We are committed to improving the quality of life on our island. We identify community needs and seek to match them with the interest of donors. We promote community giving through our ANGUILLA CARES Campaign and we work to provide lasting services by encouraging the creation of funds for long-term philanthropic good.
We make grants for community need
We encourage donor giving among local residents and friends
We assist NGOs by providing a vehicle for tax deductible contributions from the U.S
We provide an opportunity for long-term philanthropic support for local NGOs.
What is Anguilla Community Foundation?
The Anguilla Community Foundation was founded in 1999 with the goal of building a permanent collection of endowed funds for the long-term benefit of the Anguilla community.
An initial gift from the Social Security Development Fund* led to the creation of the first endowed fund, now known as the General Endowment Fund.
Today, that Fund has a balance in excess of three hundred thousand U.S. dollars. It has been joined by five other substantial Funds dedicated to specific purposes, plus a broad-based unrestricted AXA Cares Fund devoted to near-term projects.....more